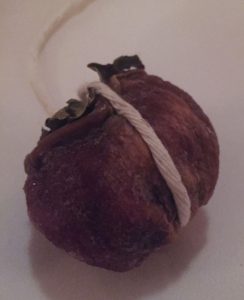 With the persimmon season approaching – heres another use, for those who enjoy tradition – and have a bit of time on their hands. Taken from an article in The Post and Courier, South Carolina.
Leading up to Christmas in Charleston, it's not just stockings that get hung by the chimney with care. During persimmon season, chefs tack the strung-up fruit to their walls and rafters to make hoshigaki, a chewy dried treat.
In Japan, where persimmons are prevalent, eaters air-dry the fruit to create what Saveur has called "the Kobe beef of healthy snacks." That designation doesn't have anything to do with the fruit's flavor. Instead, it's a reference to the special treatment the persimmons receive.
Once hung out under the sun, the peeled persimmons are left alone for a few days, and then gently massaged on a daily basis for six weeks or so. The rationale behind the massages involves the conjuring of sugars concealed within the fruit, and the smoothing of its skin: If an aging persimmon wrinkles, the folds are at risk of developing mold. The goal instead is to produce what looks like a powdered sack of ochre-hued sweetness.
Also like Kobe beef, hoshigaki isn't cheap. It retails for about $40 a pound. Last winter, The San Francisco Chronicle declared hoshigaki the season's "breakout social media star."